Ineptitude
Chapter 1 Work Has Begun!
---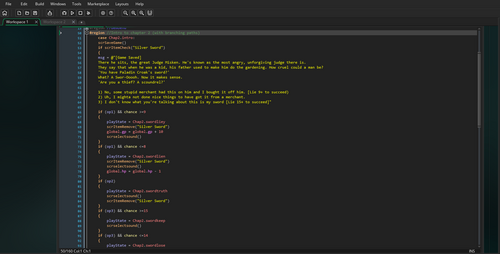 Good Evening!
Chapter 1 has officially begun development. I'm aiming for it to be released early/mid March, as long as my full time job doesn't get too much in the way. The very beginning of this chapter already has a different path if you picked the "Fanatic" class, as you come face to face with the great Judge Misken, a renowned judge from the holy order.
Or some book-bashing nerd to anyone who isn't the Fanatic. The Cursed Necklace from the demo has it's powers uncovered (somewhat) and the Silver Sword MIGHT just save your skin a little! You'll have to see what goes down in the upcoming chapter of Ineptitude!
From here, the game will cost $3.50, however regular updates and Devlogs will be made. I'm shooting for weekly Devlogs and monthly chapter releases. I'm absolutely happy to give away review copies to anyone willing to share this with others!
Once again, if you were in the My First Game Jam of February 2019, this game is FREE to you. Just contact me and I'll get you a key.
Thank you for your support!
-Gooberman